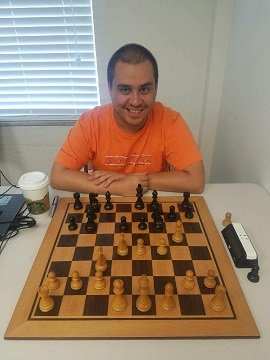 Daniel Fernandez
(Grand Master)

Chess is a game that fosters greatness. With all its complexities and nuances, it requires patience and dedication. It not only demands constant self-improvement and vigor, but also depends on challenging opponents to the fullest extent possible. For IM Daniel Fernandez, it takes on another meaning as well. Born in Lima, Peru in 1985, Daniel was born into a family that loved chess and would play amongst themselves in intimate family gatherings. In 1986, Daniel and his family moved to America. Everything about the transition to what would become Daniel's adopted country was extremely difficult. Daniel's parents worked extremely hard to make ends meet, and poured everything they could to ensure the success of their children. These challenges embody the reasons why chess is more than just a game for Daniel. He recognizes how many people render their goals impotent through a timidity of effort. He knows the importance of learning from defeat to emerge a stronger player. Most importantly, he embraces the notion that a serious chess player can never allow doubt to cloud the vision they have set for themselves.

 From a very young age, Daniel felt called to continue his family's proud commitment to the game of chess. When he was 6 years old, Daniel learned the rules of the game by watching his father and older brother play. It didn't take long for the future International Master to develop a sincere love of chess, and by the age of 7, he was competing regularly in tournaments. By age 10, Daniel became a USCF expert; the following year, he became the youngest National Master in the United States. At age 12, he represented the United States at the World Youth Chess Championship in Cannes, France. He would go on to represent the United States team in three additional international competitions.

 Over the years, Daniel would achieve other successes in the game of chess; he earned the FIDE Master (FM) title in 1999 after winning the Pan American Championship, and became the youngest winner of the Florida State Championship at 16. After earning the International Master (IM) title in 2005, he became the US Junior Closed Champion. The following year, he finished in 6th place at the US  Championship (ahead of 30 Grandmasters). In 2009, Daniel became the Texas State Champion. 2021 Daniel earned his Grand Master Title.  
 In keeping with his deep appreciation for the game of chess, Daniel has been coaching since the age of 16. His students have won numerous state titles and national titles. He has helped produce over 15 expert level players (2000+) and three master level players (2200+). His current students are among the highest ranked in Houston.
Nellie Naidoo
Director of T.H. Rogers Chess Program
Nellie Naidoo is a highly organized individual with long and diverse experience in a host of different industries, businesses, and educational organizations.
Throughout her working life she has exhibited a high level of professionalism, creativity and initiative that has been recognized in formal and informal ways by companies and organizations she has worked for.  She has received the Guiding Star Award for 2012 from Parents for Public Schools of Houston for expanding the Chess program at T.H. Rogers and other schools in the district.  She has also received an Achievement Award, from the United States Chess Federation in 2011, for running the largest chess program in Houston with consistently high enrollments at tournaments.  Additionally, she has received the VIPS (Volunteers in Public Schools) award (2007-2008) from the HISD for increasing parent participation in T.H. Rogers and starting the International Festival.
She is currently managing the Chess Program at T.H. Rogers School, Travis Elementary, Hogg Middle School, Kolter Elementary School, Dragon Academy and River Oaks Country Club.  For the past10 years, she has ran a highly organized Chess Summer Camp at T.H. Rogers with highly rated chess coaches, which is open to all children in the Houston area and beyond.
From 2003-2015 volunteering at the Chess Program at T.H. Rogers have been very successful because of her people's skills, her passion for chess and her dedication in developing young students.  Always willing to learn and challenge her students to think critically, she is excited at the prospect of expanding and sharing this knowledge and experience with other students in larger Houston area by opening Chess Masters of Houston with Grand Master, Daniel Fernandez.